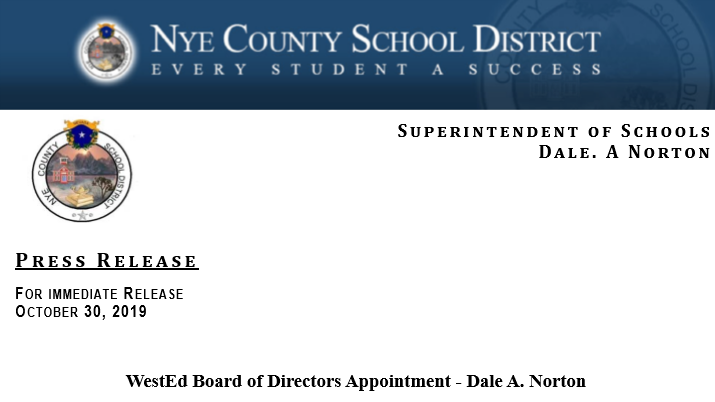 Press Release: Dale A. Norton Appointed to WestEd Board of Directors
Nye County School District
Wednesday, October 30, 2019
"WestEd is committed to the belief that all students should succeed in our schools and that all learners — from infants to adults — should thrive in our communities, despite the circumstances they were born into." ‐ Glen Harvey, WestEd Chief Executive Officer
Nye County School District Superintendent of Schools Dale A. Norton was recently approved by the Nevada Board of Education as a member of the WestEd Board of Directors. He was recommended by Nevada State Superintendent of Public Instruction Jhone Ebert.
Dale Norton has been with Nye County School District for over thirty years and is currently in his 8th year as the Superintendent. Prior to becoming the Superintendent, he served as Assistant Superintendent under Dr. William Roberts.

WestEd's Board of Directors comprises leaders from public and private education, business, and human services communities. Their Board takes an active role in agency leadership and strategic planning.

"I am truly honored to have been considered for this position, and to have been the person selected and moved forward to the Board of Education by State Superintendent Ebert," stated Superintendent Norton. "I believe I was considered for this position due to the recent work in Nye County School District of bringing academics to the forefront and focusing on student achievement. I am thankful for the support I have received from those around me in our quest to move forward. The district level team I work with, the board of trustees, school administrators, certified and licensed staff, and for the students of Nye County School District."