Make reading a social activity Students who often read for pleasure have large vocabularies and strong thinking skills. To encourage reading for the fun of it, throw a family reading party. Make some snacks and gather together to read for 30 minutes. Everyone can read what they like. Or watch a movie based on a book, then have everyone read the book and gather again to talk about the differences between them.
http://niswc.com/36cNC276091
______________________________________ Convierta la lectura en una actividad social Los estudiantes que leen por placer con frecuencia suelen tener un vocabulario amplio y habilidades de razonamiento sólidas. Para animar a su joven a leer por placer, organice una fiesta de lectura familiar. Prepare algunos bocadillos y reúna a la familia para leer durante 30 minutos. Cada uno puede leer lo que quiera. O podrían ver juntos una película basada en un libro. Luego, lean el libro y vuelvan a reunirse para hablar de las diferencias entre las dos versiones.
http://niswc.com/46cNC276091

PVHS received a SafeVoice tip today concerning a student with a knife on campus. The administration acted immediately to address the concern and a student was taken into custody by the NCSO. No student was harmed during this incident. The safety and security of all students and staff is a top priority. School administrators will continue to respond expeditiously to any and all safety concerns.

Mr. Norton prepares to engage prospect teachers at a recruiting fair for education graduates at the University of Illinois.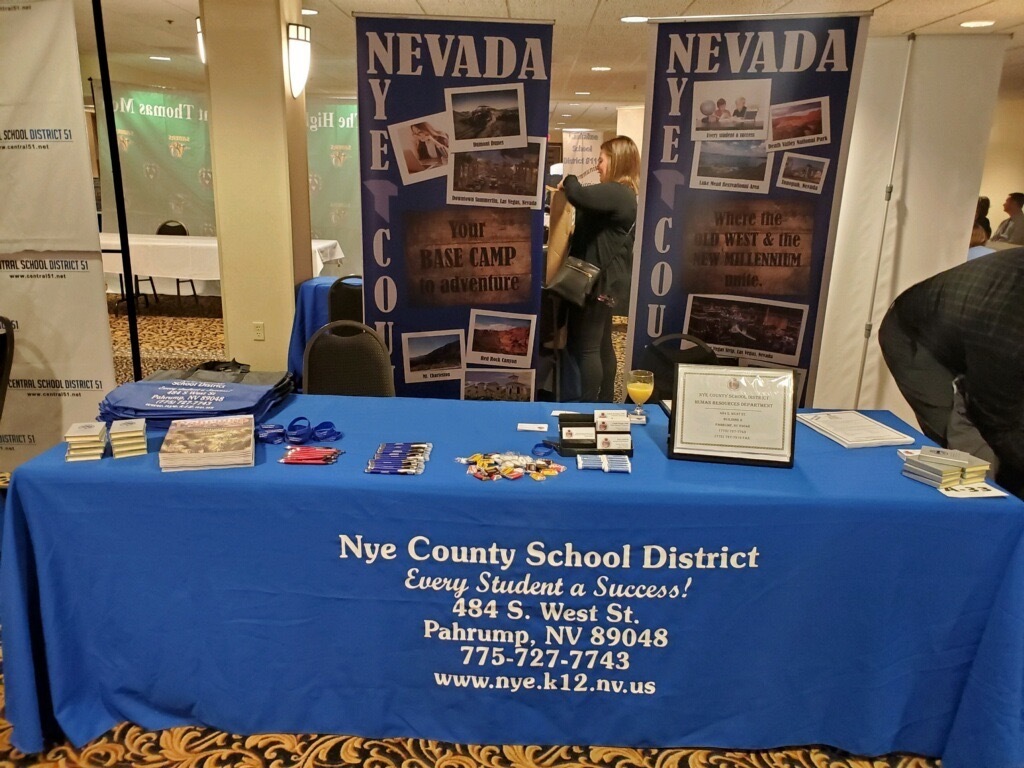 Watch Mr. Norton celebrate Reading Week with the book My Teacher is a Monster! by Peter Brown:
https://5il.co/daki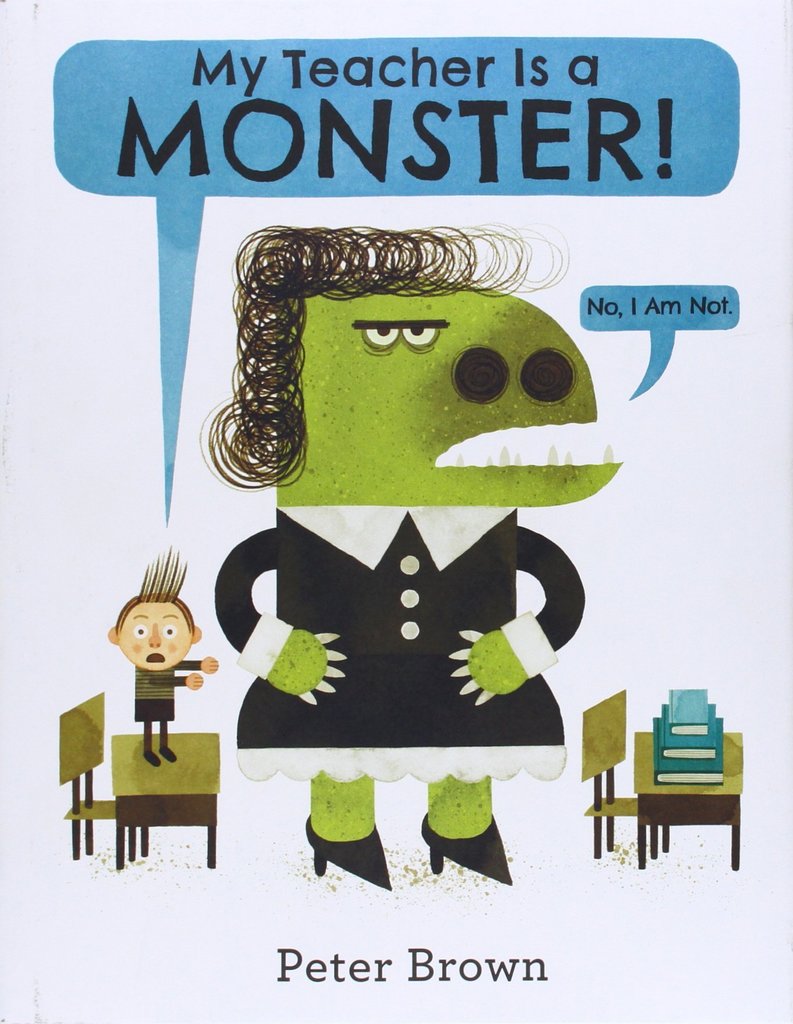 Help your teen recover from a poor choice All teens make poor choices sometimes. When your teen makes one, help her run through four R's experts say are key to recovery: 1. Recognition. Your teen should identify what she did that caused the problem. 2. Responsibility. She must accept that she was in error. 3. Reconciliation. She should apologize to anyone she's hurt. 4. Resolution. She should come up with a fix that is satisfactory to all involved.
http://niswc.com/36cFC276091
______________________________ Ayude a su joven a recuperarse de una mala decisión Todos los jóvenes toman malas decisiones de vez en cuando. Cuando su joven lo haga, ayúdelo a seguir las cuatro R que los expertos recomiendan para recuperarse: 1. Reconocimiento. Su joven debería identificar qué es lo que hizo que causó el problema. 2. Responsabilidad. Debería aceptar que cometió un error. 3. Reconciliación. Debería pedir disculpas a las personas que afectó. 4. Resolución. Debería pensar una manera de remediar el problema que sea satisfactoria para todos los involucrados.
http://niswc.com/46cFC276091

Try a silent solution to encourage tidy habits Help your child learn that completing a task includes cleaning up afterward. If his messes get out of hand, announce that you are expecting a visit from the silent custodian. Your child should prepare by tidying up. Whatever isn't picked up by a time you set goes into a box marked "silent custodian." In order to get an item back, your child must complete a chore of your choice.
http://niswc.com/16cEC276091
_______________________________ Pruebe una solución silenciosa para fomentar hábitos pulcros Ayude a su hijo a aprender que completar una tarea incluye limpiar al terminarla. Si el desorden se le sale de control, anuncie que está esperando la visita de un cuidador silencioso. Su hijo debería prepararse y ordenar. Todo lo que no haya recogido a cierta hora que usted determine se colocará en una caja rotulada "cuidador silencioso". Para recuperar un objeto, su hijo debe completar un quehacer doméstico que usted establezca.
http://niswc.com/26cEC276091

Reduce the risk of risky behavior Studies show that when parents monitor their teen's activities, the teens are less likely to take part in risky behavior. So, ask where your teen is going and with whom. Have her check in with you when she gets home from school. Get to know her friends and their families. Keep track of how your teen is doing in school. And let her know you expect her to tell you the truth about what she's doing.
http://niswc.com/36bYC27609
______________________ Reduzca el riesgo del comportamiento riesgoso Los estudios revelan que cuando los padres supervisan las actividades de sus jóvenes, es menos probable que ellos se comporten de manera riesgosa. Por eso, pregúntele a su joven adónde va y con quién. Dígale que le avise cuando llega a casa de la escuela. Conozca a sus amigos y sus familias. Manténgase al tanto de cómo le está yendo en la escuela. Y dígale que usted espera que le diga la verdad sobre lo que hace.
http://niswc.com/46bYC276091

Get to the bottom of underachievement When your child's achievement in school is well below her ability, it's time to take action. First, talk to her teacher. Your child may be bored. Is there a project that might challenge her? Work together to find solutions. Outside school, look for activities that use your child's strengths. If the problem continues, ask a doctor how to test your child for learning disabilities (LD).
http://niswc.com/16bYC276091
_______________________________ Llegue a la raíz del mal rendimiento Cuando el rendimiento escolar de su hijo está por debajo de su capacidad, es hora de tomar medidas. Primero, hable con el maestro. Quizás su hijo esté aburrido. ¿Hay algún proyecto que lo ponga a prueba? Trabajen juntos para encontrar soluciones. Fuera de la escuela, busque actividades que usen las fortalezas de su hijo. Si el problema continúa, pregúntele a un médico cómo evaluar si su hijo tiene alguna dificultad de aprendizaje (LD por sus siglas en inglés).
http://niswc.com/26bYC276091

Motivate your teen to take interest in history Too many teens don't know the answers to simple history questions. One way to help your teen to find the fun in learning history is to watch a historical movie together. Then challenge him to check the facts and see how accurate it was. You can also inspire him to find out more by offering to free him from a chore if he surprises you with a historical fact you didn't know.
http://niswc.com/36bQC276091
________________________ ¿Necesita su hijo un maestro particular? Si su hijo está teniendo dificultades en la escuela, podría beneficiarse de la ayuda de un maestro particular. Póngase en contacto con el maestro para averiguar cuál es el problema y cuáles son las opciones. Antes de contratar a un maestro particular, pregunte: ¿Cuál es su formación académica? (Los maestros particulares de la escuela primaria deberían ser maestros certificados). ¿Ha enseñado esta materia antes? ¿Les ha enseñado a niños de la edad de su hijo? ¿Se comunicará con el maestro de su hijo? (Las mejores clases particulares son aquellas que apoyan el aprendizaje que toma lugar en el salón de clase).
http://niswc.com/26bQC276091

Does your child need a tutor? If your child is struggling in school, a tutor may be able to help. Check in with your child's teacher to find out what the issues and options are. Before hiring a tutor, be sure to ask: What are the person's academic qualifications? (Elementary tutors should be certified teachers.) Has the tutor taught this subject? Taught children your child's age? Will the tutor communicate with his teacher? (The best tutoring supports classroom learning.)
http://niswc.com/16bQC276091
________________________________________ ¿Necesita su hijo un maestro particular? Si su hijo está teniendo dificultades en la escuela, podría beneficiarse de la ayuda de un maestro particular. Póngase en contacto con el maestro para averiguar cuál es el problema y cuáles son las opciones. Antes de contratar a un maestro particular, pregunte: ¿Cuál es su formación académica? (Los maestros particulares de la escuela primaria deberían ser maestros certificados). ¿Ha enseñado esta materia antes? ¿Les ha enseñado a niños de la edad de su hijo? ¿Se comunicará con el maestro de su hijo? (Las mejores clases particulares son aquellas que apoyan el aprendizaje que toma lugar en el salón de clase).
http://niswc.com/26bQC276091

Build skills that lead to test success Whether they are studying for a driver's license or a biology test, teens need skills in planning, time management and organization in order to do well on exams. Encourage your teen to start planning for the end of unit test at the beginning of each unit. He should set aside regular time to review; cramming doesn't work. Filing quizzes, notes and worksheets by subject in a binder keeps them handy for study.
http://niswc.com/36bVC276091
________________________________________ Desarrolle habilidades que conducen al éxito en los exámenes Ya sea el examen para obtener la licencia de conducir o un examen de biología, los jóvenes necesitan saber planificar, administrar el tiempo y organizarse para rendir bien. Anime a su joven a comenzar a organizarse para el examen de fin de unidad tan pronto comience cada unidad. Él debería reservar tiempo para repasar regularmente, pues estudiar todo junto a último momento no funciona. También debería guardar los exámenes anteriores, los apuntes y las hojas de ejercicios en una carpeta a mano para estudiar.
http://niswc.com/46bVC276091

To learn about careers, your teen just has to ask Most teens don't have a clear idea of what career they want to follow. But information they need about careers is all around them. Encourage your teen to talk to people he meets. He can ask questions such as: Why did you become a dentist (or electrician or salesperson)? What's the best thing about your job? What do you like least about it? What special skills do you need? How much education is involved?
http://niswc.com/36bKC276091
______________________________________ Para aprender sobre las carreras, su joven solo debe preguntar La mayoría de los jóvenes no tiene una idea clara de qué carrera profesional quiere seguir. Pero la información que ellos necesitan sobre las carreras se encuentra a su alrededor. Anime a su joven a hablar con las personas que conozca. Puede hacer preguntas como: ¿Por qué decidió ser dentista (o electricista o comerciante)? ¿Cuál es el mejor aspecto de su trabajo? ¿Qué es lo que menos le agrada de él? ¿Qué habilidades especiales se requieren? ¿Qué formación educativa se necesita?
http://niswc.com/46bKC276091

Ask this question when your child gets home When your child gets home today, try asking her the same question Nobel Prize-winning physicist Isidor Rabi's mother asked him: "Did you ask a good question today?" Encourage your child to think about what she's learning in class so she will know what she wants to ask. Rabi credited his mother for his becoming a scientist; her daily query prompted him to ask thoughtful questions.
http://niswc.com/16bNC276091
________________________________ Cuando su hijo llegue a casa, hágale esta pregunta Cuando su hijo vuelva a casa hoy, hágale la misma pregunta que la madre de Isidor Rabi, ganador del Premio Nobel de física, le hacía a él: "¿Has hecho una buena pregunta hoy?" Anime a su hijo a pensar en lo que está aprendiendo en clase para que sepa qué quiere preguntar. Rabi le dio crédito a su madre por convertirse en un científico, pues su interrogación diaria lo incentivó a plantear preguntas bien pensadas.
http://niswc.com/26bNC276091

More on Work-Based Learning...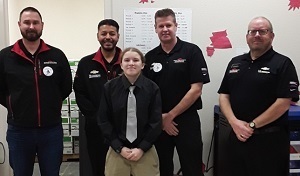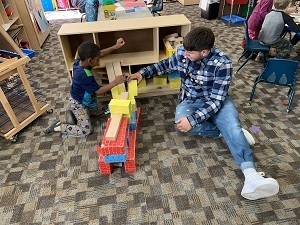 WHAT IS WORK-BASED LEARNING (WBL)? WBL is a common term used for school programs providing re-world, industry-relevant, hands-on work experience to students. The goal of WBL is to assist students to be college and career ready through authentic connections to businesses and industry in a field related to the student's career interest. Pictured here are students being interviewed by a community partner.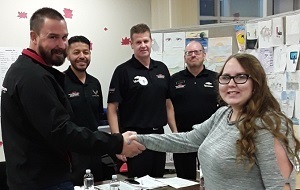 World Read Aloud Day! Wednesday, February 5, 2020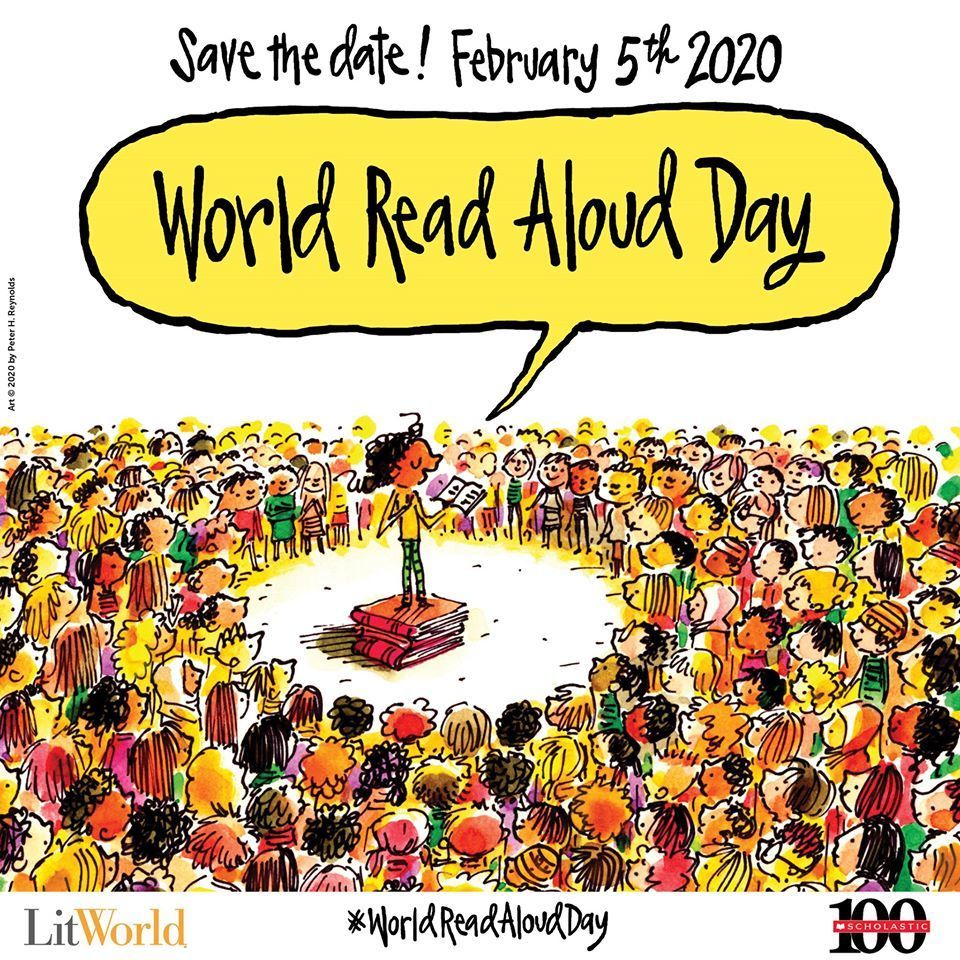 Participate in things that matter to your child It's not always possible for parents to attend every one of their children's events at school. So what's most important? It's simple, really. Ask your child which events mean the most to her. She may not care if you miss seeing her get a perfect attendance award. But she may really want you to hear her 30-second solo in the spring concert. When you can't be there for everything, be there when it matters to your child.
http://niswc.com/16bCC276091
____________________________________ Participe en las actividades que le importan a su hijo No siempre es posible que los padres asistan a todos los acontecimientos escolares de sus hijos. Entonces, ¿cuáles son más importantes? En realidad, es fácil de determinar. Pregúntele a su hijo qué acontecimientos son más significativos para él. Puede que no le importe mucho si usted no lo ve recibir el premio a la asistencia perfecta. Pero tal vez realmente desee que lo escuche cantar su solo de 30 segundos en el concierto de primavera. Cuando no puede estar presente todo el tiempo, escoja los momentos importantes para su hijo.
http://niswc.com/26bCC276091

Reading aloud is not just for preschoolers You may think of reading aloud as something you do with a young child. But your teen can benefit from it, too. Consider reading aloud to each other from a story or article that might interest him. You might also check out an audiobook from your library. Hearing fluent reading can improve your teen's own reading fluency. And if he likes it, it may inspire him to read another book on that topic or by that author.
http://niswc.com/36acC276091
______________________________________ La lectura en voz alta no es solo para los niños preescolares Quizás usted considere que leer en voz alta es una actividad para realizar solo con los niños pequeños. Pero su joven también puede beneficiarse de la lectura en voz alta. Considere turnarse con él para leer en voz alta una historia o artículo que podría interesarle. También podría sacar un audiolibro de la biblioteca. Escuchar una lectura fluida ayudará a mejorar la fluidez de su joven al leer. Y si le gusta, podría inspirarlo a leer otro libro de ese tema o autor.
http://niswc.com/46acC276091

These student achievement tips are parent-approved In a survey, parents of high achieving high school students were asked how to raise a child who is successful in school. Their top tips? Stay involved and emphasize the importance of education. Take time to talk with your child and respect her opinions. Give her an ethical foundation. Get her involved with the things that interest her. And let your child know how much you love her.
http://niswc.com/16aaC276091
____________________________________ Consejos aprobados por padres para mejorar el rendimiento escolar En una encuesta, se les preguntó a padres de estudiantes de secundaria sobresalientes cómo criaron a sus hijos para que tengan éxito en la escuela. Sus principales consejos fueron: Participar en la educación de su hijo y hacer énfasis en su importancia. Tomarse el tiempo para hablar con su hijo y respetar sus opiniones. Brindarle una base ética sólida. Fomentar su participación en las actividades que le interesan. Y decirle a su hijo cuánto lo ama.
http://niswc.com/26aaC276091

Short-term goals add up to long-term progress The best way to accomplish a long-term goal is to set and meet short-term goals along the way. If your teen has a goal of being a better student, for example, help her think of something she can accomplish this week that will help. She might keep to a regular study schedule or make an effort to participate in each class. At the end of the week, she can assess her progress and set another goal.
http://niswc.com/36aOC276091
__________________________________ Las metas a corto plazo dan lugar al progreso a largo plazo La mejor manera de alcanzar una meta a largo plazo es establecer y lograr metas a corto plazo en el camino. Si su joven se trazó la meta de ser un mejor estudiante, por ejemplo, ayúdelo a pensar en algo útil que pueda lograr esta semana. Podría fijar un horario de estudio regular o esforzarse por participar en todas sus clases. Al final de la semana, puede evaluar su progreso y establecer otra meta.
http://niswc.com/46aOC276091